Originally we had only planned to stay in Koh Lanta for three days. We liked it so much, we stayed for a week. Well, Jay getting sick, then getting the computer fixed also made us stay, but we didn't mind. We decided to forego other islands, mainly Ko Jun, which is supposed to be very remote, but what we would pay for accommodations made it seem not worthwhile.
I think a major reason we wanted to go to Ko Jun was because the northern part of the island is called Ko Poo, and we're both juvenile.
Mr. Mat gets us an actual boat ride to Krabi Town, not this nonsense of van, van, van on boat ordeal.
The boat makes a couple stops. In the middle of the water. This is where you literally jump on another boat in the middle of the water like a goddam pirate to go to Ko Jun. The other stop is Ko Poo. As we pull away from Ko Poo, all my Poo dreams sink like a log (couldn't resist).
We wanted to stay at the Apo Hotel again in Krabi Town, but nearly everywhere is booked up. We luck out and find a nice hotel called the Pitta House. Free instant coffee until 11.
Another motorbike rental and we're off. During our last visit here, we both regretted not seeing more of the sights, so we're determined to visit the Hot Springs, which is supposed to help with medical maladies. At this point with my sciatica I'm willing to try anything. In fact, I've even contemplated a Thai massage, but when I Google-translate 'pinched sciatic nerve,' a couple of different things pop up. I don't want anything to get lost in translation, them thinking another part of me is 'pinched' so I decide against it.
After about 45 minutes of booting along the highway on a scooter, we see a sign that says 'Krabi Hot Springs.' Unsure if this is the place, we go in. A dog barks at us. Another is friendly. That's not really necessary, but it was cute so I included it. It's my blog.
From what we've read and pictures we've seen, the hot springs get pretty crowded. This place is empty and doesn't look at all like the pictures. Every hot spring looks like a tiny pool, all nicely tiled. This clearly isn't the place, but we paid, so we go in. The water is very hot and the dog barked again when we left. Not much else to say about this.
We find the correct hot spring, and the parking lot is littered with tour buses. From this sight, we figure it's jam packed, but decide to go anyway. To our delight, admission to this one is actually cheaper than the first one.
Into the forest, along a wooden deck path, we come to it and it's beautiful. The stream leads into a tiny, dual waterfall, which runs along rocks which have been smoothed out. As the water from the stream falls onto the rocks, it has created pits filled with water that you can relax in like a hot tub. The water continues to cascade, eventually going over a larger, smooth, gradual waterfall and then into a stream.
To my surprise, it seemed like there was an employee of the National Park there. I don't think she was there for safety as much as she was there to take pictures for promotion. I like to think that if someone smashed their face on a rock, she'd know what to do.
Jay tells me someone lost their aviator sunglasses in one of the hot springs pits, so guess who's got a new pair of aviator sunglasses?
We return to our hotel, and now I'm writing this as Jay touches up her resume.
Like I said a few posts ago, I'm nervous and excited simultaneously. I know we've only been here a month and haven't really done much, but it's grown on me. I can say hello and thank you in Thai, even though I haven't out loud, and have picked up on some of the customs. The people here are incredibly nice, and seem to go out of their way to help you.
It feels like we're just starting to get the hang of it here and now we're going someplace new for a completely new adventure. It's like leaving home to an unknown world again, but to a far lesser extent.
We said our month in Thailand would be our vacation, it was after that we'd have to fight to stay. In Cambodia, it's put up or shut up time. We have to start bringing in money or it's back home for us, which neither of us wants right now.
I'm reminded of the scene in Terminator 2 where it's just a shot of the yellow line on the highway at night with Sarah Connor doing the voice over. That's what I feel like right now. We're on a road we've never been on before. We don't know the curves or where it goes. There's no streetlights, nothing lighting our path other than our headlights, and they only show the immediate future. What's beyond is anyone's guess.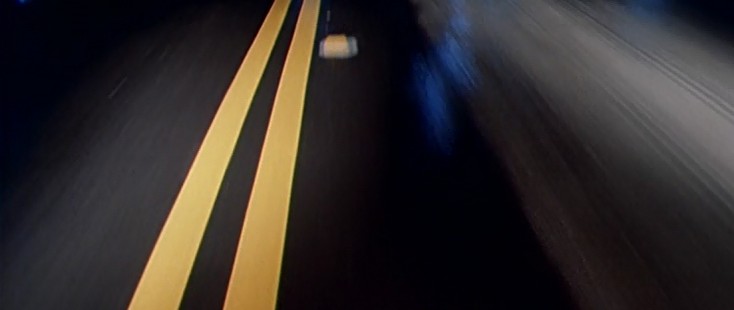 The unknown is scary. It creates questions that won't, and cannot, be answered without going into it. Yet, it's exciting and alluring. Much like the car on the empty black highway, we're in control of our own futures. The road will have curves and bends, and it's up to us to navigate them. We're in the driver's seat, no longer passengers of our own lives.
That right there is exciting and downright terrifying at the same time.